Project Name: Strategic Plan for Water Resources Management in 25 Basins
Name of Company: Panya Consultants Co., Ltd.
Name of Associated Firm: P&C Management Co., Ltd.
Location: Countrywide, Thailand
Client: Department of Water Resources
Project Cost: 969,985.53 million baht
Type of Service: Study on the formulation of strategic plans for water resources management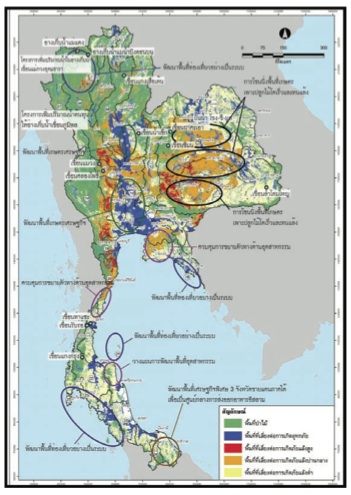 Project Description : The project is to study on the formulation of strategic plans for water resources management in 25 basins in order to serve as a framework for the operation of river basins and to solve the national problem in line with the national water policy, government policy and national economic and social development plan. Not only country development strategies but also water resources development strategies are proposed as follows:
1. Sustainable development strategy includes water resources and soil resources management comprising:
Forest, soil and water conservation
Natural water sources improvement
Water allocation and water rights
Agricultural development through the sufficiency economy concept
Complete agricultural system improvement in irrigation areas
Land use management
Agro-economic zoning in irrigation areas
Water supply for consumption, tourism and industry in major economic areas
Large and medium-scale water resources project development
Flood mitigation
Wastewater management
2. Proactive strategy is development to add value of water in the following aspects:
Downstream hydropower project development of the Royal Irrigation Department
Water transport development
International cooperation in sharing water resources
Water increase in river basins by diverting 8,000 MCM of water per year
Promotion of hydropower dam development on the Mekong River bordering Thailand and Lao PDR
3. Strategy for efficiency enhancement of water resources management by improving structures and functions of water-related agencies, amending laws and acts, decentralizing authority and establishing the National Water Information Center
In addition, it will be served as a framework for various agencies in improving short, medium and long term action plans by allowing organizations, communities and relevant agencies to participate in the water resources project developments.