Project name : M.R.T. Chaloem Ratchamongkhon Line Mechanical and Electrical System Consultant (MESC)
M&E System Consultant : S.D.C. Company Limited (SDC)
Name of Associated Firm : Electrowatt – Ekono (Thailand) Ltd.
Scott Wilson Asia – Pacific Ltd.
Infinity Services Co., Ltd.
SDC was in charge of administration section and
supporting staff in telephone engineering, building,
electrical section and technician crew.
Location : Bangkok, Thailand (Hua Lamphong – Bang Sue 22 km.)
Name of Owner : Mass Rapid Transit Authority of Thailand (MRTA) 175 Rama 9, Huay Khwang, Bangkok 10320 Tel. 0-246-5733 Fax. 0-246-3687
Financing agency/institution : Budget of Thai Government and Loan from Japanese Bank of International Corporation (JBIC)
Value of project : 100 Billion Baht (Value of Concession Agreement: 18.5 Billion Baht)
Value of consortium's contract : 480.38 Million Baht (S.D.C.'s Sharing Value of the Contract : 84.06 Million Baht)
Original and actual dates of commencement & completion : June 1999 – December 2003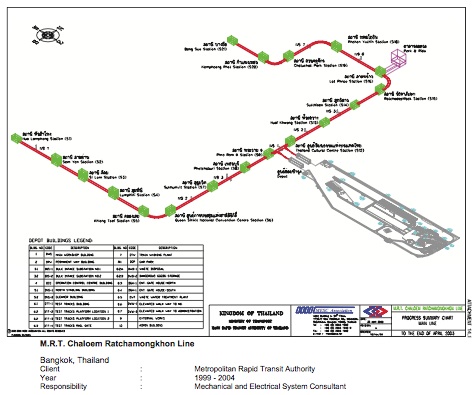 Brief description of the project: The MRTA Chaloem Ratchamongkhon Line is a heavy rail transit system covering a route of 20 km, with 18 stations, from Hua Lamphong to Bang Sue. The systemhas a capability of transporting 40,000 passengers per hour per direction. The system is fully underground withat-grade depot located at the middle of the route, Huai Khwang, and will have a park and ride facility for 2,200 cars at the intersection of Lad Phrao and Ratchada Phisek Road.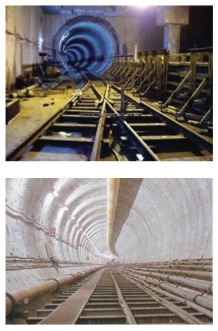 The Concession Agreement will cover the design, manufacture, supply, installation, testing and commissioning of the M&E Equipments, of which are Rolling Stocks, Signalling, Public Address, Closed Circuit Televisions, Clocks, Telephones, Radio, Communication Bearers, SCADA, Automatic Fare Collecting machines, Power Supply, Graphics and Signage, Platform Screen Doors, Control Centre Equipments and Software, Maintenance Equipments and Special Tools, Depot Building, Depot and Administration Support Equipments and the operation and maintenance of MRTA Initial System through out the concession period.
Brief description of services : The consultant is responsible for the main tasks as following :
Monitoring and reporting of the Concessionaire's works including, any breach of the Concessionaire Agreement by the Concessionaire, any actual or potential claims against the Owner arising from the works by the Concessionaire or third parties, any potential problems which may impact the safety, schedule progress or cost of the works.
To recommend corrective or remedial actions to prevent, resolve, counter or mitigate the effects of the deviations or problems.
To review, comment and report on the Concessionaire's Quality Assurance Plans, System Operating Plans and Safety Plans.
To review and confirm non-objection or objection as the case may be, of the submitted Outlined Designs by Concessionaire.
To facilitate design co-ordination between the Concessionaire and Designated Contractors.
To review, comment, recommend and monitor the progress of the Concessionaire's installation, testing and commissioning works including the approval of the Concessionaire's installation, testing and commissioning programmes and progress of works.
Monitor and report on the Concessionaire's compliance with the quality assurance, safety and environmental protection plans.