Name of the project: Detailed Design and Construction Supervision of Pulp and Paper Mill Project
Consultant: Dynamic Engineering Consultants Co.,Ltd.

Location: Sri Maha Phot, Prachin Buri Province, Thailand
Name of owner: Advance Agro Public Co., Ltd.
Financing agency/institution: Advance Agro Public Co., Ltd.
Value of project1: Baht 1,000 million
Value of firms, or JV, or
consortium's contract1: Baht 14.9 million.
Original and actual dates November 1993 – October 1996.
of commencement & completion:
Firms participation2: Sole consultant
Name of partners2: -
Brief description of project:
Advance Agro Public Co., Ltd. the pulp and paper manufacturer has expanded its production facilities at their premises at Si Maha Phot district, Prachin Buri province. The estimated production capacity was 200,000 ton/year. The pulp mill and paper mill are in the same area. Owner owns the Eucalyptus plantation for using as raw material for pulp mill.
Brief description of services:
SEATEC Group by Dynamic Engineering Consultants Co., Ltd. was appointed by Advance Agro Public Co., Ltd. to undertake the detailed design, management and supervision of construction works. The scope of works were as follows:
2-storey reinforced concrete paper machine building with large machinery's foundation, rigid frame roof and column with 25 m. span, total floor area of 40,000 m2.
1-storey reinforced concrete warehouse, rigid frame roof and column with 24 m. span, total floor area of 20,000 m2
2-storey reinforced concrete pulp production building
2-storey power plant and turbine generation
Power boiler foundation
Chemical plant and pulp storage
Electrical System
Mechanical System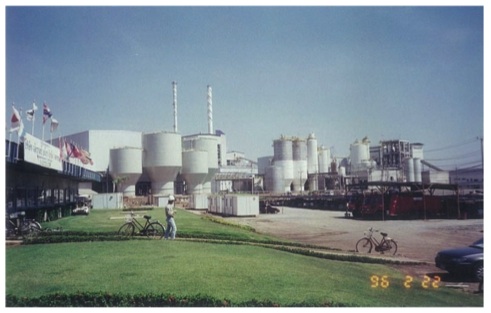 Brief description of Engineering Technique:
The Pulp Mill and Paper Mill both is large factory that requires lots of large machines including stream plant and power plant. These machines will make as order. Time consuming is on order, make and shipment. Pulp and paper mills require high investment. The fastest paper production by fasten construction time is the best way to benefit to owner, and then Fast Track Construction Management Method was introduced to this project and successful.
Fast Track construction method is to do concerning activities parallel. Design and separated bidding for each construction activity that process by priority. Such as earth work, foundation can be done while waiting for structural design work. Problem of conflict and responsibility found is between contractor and contractor of each job, design consultant and construction supervision consultant, if they are from different company. These can be solved by designer representative have always be at the construction site, construction supervision consultant coordination for solving the problem, and with open mind project owner.