Name of the project: Construction Supervision and Management of Shangri-la Hotels and Resorts at Maldives
Consultant : Dynamic Engineering Consultants Co.,Ltd.
Location: Gili-Gili Island, Republic of Maldives
Name of owner: Villingili Investment Private Limited.
Financing agency/institution: Export-Import Bank of Thailand
Value of project1: US$ 36,000,000 (approx 43 Baht/US$)
Value of firms, or JV, or US$ 325,000 (approx 43 Baht/US$)
consortium's contract1:
Original and actual dates October 2003 – September 2004
of commencement & completion:
Form of firm's participation2: Sole Consultant

Name of other members of consortium2: None
Brief description of project and the works to which the firm's services was provided:
Villingili Investment Private Limited, a local investor determines a project to construct a five-stars hotel and resort with full activities and facilities as leading hotel. Shangri-la Hotel Chain was appointed to manage the hotel and using its image to attract visitor. Major financial support is from the Export-Import Bank of Thailand with the condition that the consultant and main contractor are from Thailand.
Gili-Gili is an island located in the southern part of Maldives. The project area covers the whole island with total self-support amenities. There are service buildings cluster together in the center of the island, the public buildings are scatted all over the island and the hotel units are on the water or along the beach.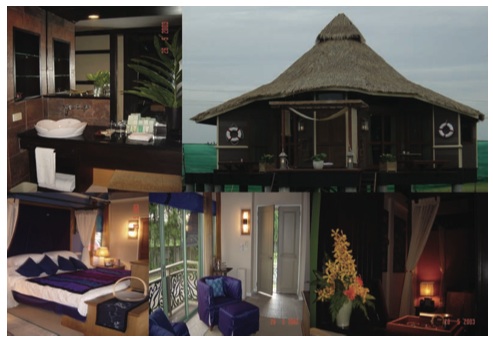 Since the Design Phase has been undertaken by the other Consultants, DEC's scope of work are only for the Construction Supervision and Management Phase for Civil/ Structural. Architectural, M&E System Works. This phase of work is divided into three sub-phases, which are (1) Pre-Construction Phase; (2) Construction Management Phase;
and (3) Post Construction Phase.
Brief description of the services provided by the firm or consortium:
The Villingili Investment Private Limited of the Republic of Maldives appointed Dynamic Engineering Consultants Co., Ltd. (DEC) to provide consulting services for supervision and management of construction for all phases. The responsibilities included the following:
Pre-Construction Phase includes the following activities as part of bid evaluation and contractor selection process;
Issue addendum to tender documents is needed
Compare the tender prices of tenderers
Assist the Owner in bid evaluation and negotiation with the bidders
Arrange meetings for tender negotiations
Review final contract prior to awarding.
Construction Management Phase includes the following activities;
Establish teamwork among the Owner, the Consultant and the Contractor(s)
Formulate detailed construction schedule
Assist the contractor in preparing schedule of long delivery materials
Recommend equipment procurement procedureVerify and approve shop drawings
Construction supervision and management of all disciplines
Monitor construction activities in compliance with specifications and schedules
Update construction schedule
Conduct quantity and quality reviews for Cost & Quality Control
Certify contractors' payment request.
Arrange regular meetings for concerned parties to solve problems
Prepare monthly reports
Assist in commissioning
Assist the Owner in final acceptance of project and issue certificate of completion.
Post Construction Phase includes the following activities;
Review and recommend project close-out
Check, approve and submit as-built drawings prepared by the contractor(s) to the Owner
Compile project documents for Owner's record.